Fact: Garbage Pail Kids are the shit


I have a big-ass binder from my childhood, filled with card sleeves, and in those card sleeves is every single GPK from series 1 – 13, as well as about half the cards from series 14 & 15 (the final series). I also have several of the oversized cards they made, many of which featured new GPKs or multiple ones together, as well as a knock off set of about 7 or so cards called "Garbage Pail Adults". I also have the GPK live action movie on VHS.

Karpis and I have been texting back & forth for awhile now about GPKs, his collection is similar to mine, and we both have lots of doubles. He's going to hook me up with a bunch of doubles that I need, and I want to complete my last 2 sets.

I started collecting with series 2, and to this day that's by far my favorite set. I love the artwork, the characters, and even the backings of that series the most.

Once I complete series 14 & 15, I also want to collect the new series of GPKs that have been released over these past few years. There are currently 7 series of new GPKs, as well as a "Flashbacks" set that includes reproductions of original cards (except they have checkered yellow & black borders, instead of plain white borders), as well as "sketch cards" and "Where Are They Now?" cards. I don't care about the reproductions of the Flashbacks set, since I have most of the original cards themselves, and the only sketch cards I would care about would be for character concepts that never made it into actual cards (not sure if there are any sketch cards like this tho). What I do like about the new Flashbacks series is the "Where Are They Now?" cards – they're the only ones I want. They're regular GPK cards featuring oldschool characters appearing how they would look now! For example, Boozin Bruce…

Then: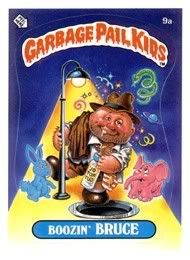 Now:


(the border cuts off the TV camera which says "GPK Rehab", a spoof of Celebrity Rehab)

To make things better, I was doing some internet research (
) and came across one of the GPK artist's blog websites where he posts a lot of his various work, including concept sketches of GPKs both released & unreleased (which shows the changes they undergo), & much much more… I literally checked out every single page of entries in his blog. The best part of is he will create you a custom GPK color sketch card for $40! I emailed him this morning about this – told him about my site and the character I want (based off me, with 40s, etc). Waiting to hear back…


Check out his site here:
http://monkeyboycomic.blogspot.com/

Also, check out the official GPK website here:
http://www.garbagepailkidsworld.com/

As well as this great GPK reference site:
http://members.tripod.com/garbage_pail_kids/

Excited about the custom GPK, $40 is a steal IMO for an original GPK custom card by an actual GPK artist


So who else here has fond memories of these? Who else still has their collections? How many did you have? Post images of some of your favorites cards. Talk some GPK.